Brasserie Posten's idyllic location right next to the Geiranger Fjord has two outdoor serving areas, one with the view towards the old boathouses and the other toward the fjords and ferry. The restaurant has approximately 35 seatings inside. "Brasserie Posten" is named after the post office and the restaurant opened back in 2012.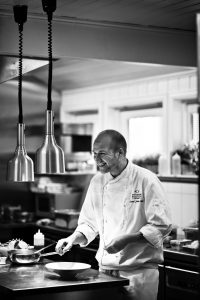 The founders of Brasseriet is Kenneth Løken and Malin Merok. The chef and owner Kenneth has a long experience as a chef, and in 2012 his dream of opening his own restaurant came true. Kenneth is passiont for fresh, norwegian local food of high quality as the food on the menu depends on the season. The menu therefore changes several times throughout the season, while some signature dishes stay, like the fish soup at the burger "Postburgeren". 
All food served is made from scratch with high quality and fresh ingredients. The food served as simple, good and rustic, with clean and good flavors.
 It is not only the quality food that is important for Brasserie Posten, drinks are also important. You will therefore find a wide selection of beer from norwegian microbreweries like Kinn, Nøgne Ø, Ægir and last but not least Geirangers own brewery- Geiranger Bryggeri. The beer from Geiranger Brewery are served both in bottle and on tap. 
 Brasseriet also has a selection of good wines, fresh and local produced applejuice and other non-alcoholic beverages. 
 Brasserie Posten er mainly a seasonal business which is open from 1th of April until 1th of November. Even though the tourist season is ending in the end of October, the restaurant continues having events like quizes every Wednesday from November until March.
 In addition to normal opening hours, the restaurant take on other events like catering, weddings, lunch catering, christenings and more. 
For more information, contact: vellagamat@brasserieposten.no